Manila FAME and IFEX Philippines
Product/ Company Information: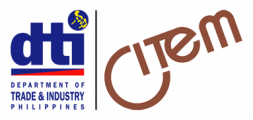 Manila FAME and IFEX Philippines are organized by the Department of Trade and Industry (DTI), through the Center for International Trade Expositions and Missions (CITEM). Considered as the​ ​country's premier design and lifestyle event, Manila FAME showcases craftsmanship, design​ ​innovation, and artisanship in Philippine products. Manila FAME brings together finely selected​ ​furniture and home furnishings, holiday gifts and décor, and fashion accessories designed and crafted​ ​in the Philippines for the global market. IFEX​ ​Philippines, on the other hand, is dubbed as the biggest​ ​and most respected showcase of Asia's ingredients and specialty food. IFEX Philippines features the​ ​region's tropical fruits and vegetables, fresh and processed seafood, and natural, gourmet, organic,​ ​healthy and functional food products.
Specialized package of incentives to qualified trade buyers through the exclusive Very Important Buyer (VIB) Program.
Very Important Buyer Program Package of Incentives
A. Full Package Incentive (For Guest Luminary, Top Level, and Head of Delegation VIB categories)
1. Airfare Incentive with Cap
2. Up to (3) Room Nights Complimentary Hotel Accommodation
3. Buyer Care Services
B. Standard Package Incentive (For the Regular VIB category)
1. Up to (2) Room Nights Complimentary Hotel Accommodation
2. Buyer Care Services

Interested in doing business in: Israel
Activity: Looking for potential trade buyers