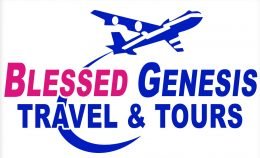 Blessed Genesis Travel and Tours
Established in Year 2006, As Corporation, Securities & Exchange Commission (SEC) accredited, BLESSED GENESIS
TRAVEL & TOURS, has continuously branded as one of the most trusted and reliable travel agency in the major cities
across the country. Our passion for service and continuous innovation has attracted many clientele and costumers.
We expertly handle local and international travel service, including airline ticketing, visa assistance, and special
tour packages from simple to unique destinations for business or pleasure trips, hotel accommodations, airline &
shipping ticketing, visa & passport processing, customized itinerary, educational tour, school immersion, team
building, lakbay-aral, bench marking, seminar & workshop, training, convention, conference, teambuilding,
pilgrimages, holy land tour, bus & van rental service, documentation, and other travel related services.
As an accredited tour operator and an active member of several travel affiliates for local and national associations,
our aim is to extend quality service for local and international clients.
In view of the above, we believe that our company has the capability, credibility, resources and the experience with
this kind of business with the combined and vast experiences of the people behind this company.
OUR SERVICES:
International & Domestic Reservation and Ticketing
International & Domestic Hotel Reservation/ Packages
Local & International Cruise Tour
Group & Individual Tour Packages
Educational Tour/ Field Trip Packages/ Corporate Tour/ Outing/ Lakbay Aral
Seminars & Workshop, Conventions, Bench Markings, Team Building
Transport Services-Car/ Bus/ Van Rentals
Pilgrimage Tour for Domestic & International/ Visita Iglesia Packages/ Holy Land Package
Immigration Services-Temporary & Permanent Visa (13A) and other related documents
Facilitation of Passport Application, Renewals, Amendments, PSA Authentication of Birth, Marriage, Death & CENOMAR, Red Ribbon
Visa Assistance for China, Japan, Korea, Australia & other countries
Travel Insurance Local & International\
MISSION
Blessed Genesis Travel aims to provide a high value on quality and attention in terms of travel and tours services. We ensure to meet and exceed the expectations of our valued clients by continually rendering good and quality service for their travel satisfaction.
VISION
To be the leading and well-known travel and tours service provider, not only in the country but also in other countries. We envision our company to be one of the contributors to the development of our tourism industry.
OUR PRINCIPLE
"TRAVEL BEYOND EXPECTATION" We want our customers to feel that we care for them and let them experience our unique and customized service, in which in-imaginable to all our clientele. We listen and we deliver the best itinerary and destination in different areas across the country and abroad.
Why Blessed Genesis Travel & Tours?
Competitive Rates – We provide affordable rates, customized and tailored-fit tour service which is suitable to companies, institution, school, LGU's, civic group, and other agencies of the government
Enough Manpower-We are the only tour operator who provides two (2) Uniformed Coordinators per tourist bus
Interactive Facilitators-All our Tour Facilitators and Tour Coordinators are trained and equipped in handling different tour activities based on client/s preferred travel/ tour theme
Documentation-We are the only tour operator/ travel agency who provide a compilation of different pictures and videos during the actual tour activities
Medical Team-We have our own medical team (Registered Nurse-RN's), equipped with basic medicines and first aid kit, to assist all participants/ clients who need immediate medical attention
Accident Travel Insurance-We provide accident travel insurance with hospital reimbursement to all travel participants/ clients
Complimentary Opportunity-We provide FOC-free of charge for our group clients
Organized Itinerary-We provide systematic and well-coordinated itineraries during the tour to ensure all the proposed itineraries are properly implemented
Safety & Protection-We are the only tour operator who provides and deploy area perimeter security coordinators and quick emergency response team to ensure the safety and protection of all our clients
Accredited & License Tour Operator-We are accredited DOT-Department of Tourism/ and accredited travel agency in the Philippine Government Procurement System (PHILGEPS), and we are also an active regular member of different and major travel agencies association across the country. As an active regular member of various major associations, we comply with the safety guidelines, procedures and regulations of the local government and the national government to ensure the international standard quality travel service.
0351 San Agustin, Trece Martires City, Cavite 4109 Philippines