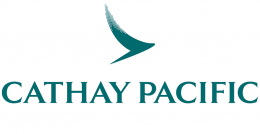 Cathay Pacific
Cathay Pacific Airways is an international airline registered and based in Hong Kong, offering scheduled cargo and passenger services to more than 110 destinations around the world.
Cathay Pacific is deeply committed to Hong Kong, where the company was founded in 1946. Cathay Pacific continues to make substantial investments to develop Hong Kong's aviation industry and enhance Hong Kong's position as a regional transportation hub. In addition to their fleet of aircraft, these investments include catering, aircraft maintenance, and ground handling companies, as well as their corporate headquarters at Hong Kong International Airport.
Cathay Pacific and its subsidiaries and associates employ over 20,000 staff in Hong Kong. The airline's two major shareholders are both Hong Kong companies listed in Hong Kong Stock Exchange, as is Cathay Pacific itself.
Cathay Pacific is the major shareholder in AHK Air Hong Kong Limited, an all-cargo carrier that offers scheduled services in the Asia region, and is a shareholder in Hong Kong Dragon Airlines Limited.
They are also a founding member of Oneworld global alliance whose combined network serves over 700 destinations worldwide.
Cathay Pacific is an award-winning and globally reputed airline, winning the "World's Best Airline" award four times and consistently ranking as among the best airlines in the world.
22F LKG Towers 6801 Ayala Avenue, Makati City 1226, Philippines