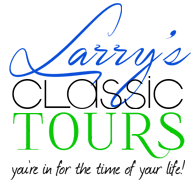 Larry's Classic Tours
"My late father, Larry C. Tolentino (LCT), was one of the pioneers of group and pilgrimage tours in the Philippines. He actively organized and managed tours for 50 years. Larry's Classic Tours was set up to continue the highly personalized and caring way he handled all his passengers."
– Mary Anne D. Tolentino
The TEAM
Mary Anne D. Tolentino
Managing Director
Mary Anne was her father's (Larry C. Tolentino) understudy for more than 20 years while doing her 8 a.m. to 5 p.m. job as a bank executive for 26 years. She assisted his group tours around the Holy Land, Europe and the United States. She founded and managed a boutique travel and tour outfit together with two friends for four years. In 2014, she decided to pursue what her father dreamed of: to perpetuate Larry's Classic Tours.
She was also active in the IT, ecommerce and internet industry, as well as the only direct marketing organization in the country. With all the rich experience she has been through she hopes she can equal the service and reputation which Larry C. Tolentino as built during his fifty years in the industry.
René S. Ocampo
Director for Business Development
René has been in the tourism industry for 36 years, mainly in all aspects of airline operations. It was under his sales leadership that Philippine Airlines breached its first One Billion Dollar Revenue mark. A brief stint as consultant of Kuwait Airways led to the quadrupling of its revenues in the Philippines. As an active director in the board of Philippine Convention and Visitors Corporation for 14 years, René supported every Secretary of Tourism in promoting the Philippines as a tourist destination. For businessmen who dared getting into the airline business, René has put up for them one airline from scratch and revived another from its moribund state.
No. 24 J Cabarrus St. BF Homes Commercial District BF Homes Paranaque, 1720 Metro Manila Philippines