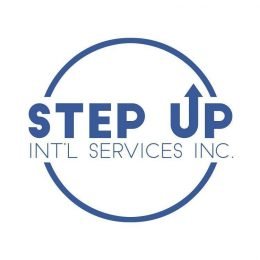 Step Up Travel
Our Company
We are an events and travel company who combine expertise in events organization, travel distribution and creating unforgettable experiences whetheer in country or whatever global destination you prefer. We pride ourselves in offering top notch quality of service at the best value. Whether you are travelling as a family, as a class or as a company we have offers suited with your best experience at heart.
"To step up and uplift the Filipno through exceptional services"
This is the core mission of Step Up International Serbices Inc.
We have made it our commitment to provide exceptional, top-notch learning and training experiences for professionals and students!
Our Pillars:
Academic- academic conferences; educational tours (Local and International)
Corporate- seminars, team buildings, incentive trips, international conferences, special events
Consumer- customized itineraries, tour packages, airline tickets, hotel reservations, vacation packages
What we do (our services):
Corporate Trainings and Team Buildings- as a major thrust of the organization, we focus on training to support the development of our clients. Supplemental training for the academe is our strentgh as we are able to bring industry known speakers to schools to support in education and provide real world experiences.
Team Buildings- we can facilitate a wide array of team building activities in and out of the coutry. If you are looking for a weekend getaway or a fun in city event, we can handle it for you! Our programs will ensure a boost in morale, teamwork and fun for everyone!
Local and International Conferences- for over five years, we have organized international and local academic conferences attended by top speakers from the local industry and recognized international organizations and academes; sharing relevant insights to thousands of student attendees from various schools all over the country.
Local and international study tours- we offer immersive local and international educational tours tailor-fit to the participants' academic programme. Our tours include visits to top notch academic insitutions and headquarters of industr leaders, providing participants a 360-degree view of the culture and best practices relevant to their discipline, be it on a local or international setting.
International Incentive Trips- specializing in group travels, we offer clients with a wide range of experience based travel to ensure your companies trip will be as memorable as you dream it to be. We offer bespoke travel to clients looking to impress and create lasing memories for their employees or clients. Whether it's a hot air balloon ride with Champagne in Cappadocia. Exploring the ruins of Bayon Temple in Siem Reap, Skiing in Yamagota, or chilling in Ibiza, we have you covered!
Corporate Social Responsibility- as a major thrust of Step Up International Inc. we believe that giving back is a big part of what we do. We donate part of our proceeds to support the Uplift Cares Global Movement Foundation, a supporter of the Alternative Learning System help marginalized adults in continuing and finishing their education.
Step Up Travels Service Offers
– Personal and Corporate Travel
– Airline Ticketing
– Hotel and Resort reservations and booking
– Customized Tour packages
– Itinerary planning
– Travel Insurance
– Department of Tourism accredited (TOP-NCR-00004137-2017)
– Local incentive trips
– Underwater photography classes
Awards (Asiatravel.com)
Top Emerging Agent in Asia for 2014
Top Supporting Agent- South East Asia 2015
Top Supporting Agent- South East Asia 2016
Unit MS516 City and Land Mega Plaza, ADB Ave. Cor. Garnet Road Ortigas Center, Pasig City, Philippines