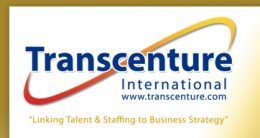 Transcenture International
Our executive recruitment offering is comprised of high caliber professionals from a wide range of industries who apply their market knowledge and insider's perspective to clients, demonstrating an innate, intuitive understanding of their needs inside and out. It is an ability that can be gained only from practice and extensive experience which allows us to place executives with ideal background, attitude and approach in the most timely and effective fashion. This is the Science of Talent.
| | |
| --- | --- |
| • | We use a competency-based framework that provides a clear and common language to help clients identify desired skills and behaviors. |
| • | Candidate Assessment – providing clients with insights into how they will lead, how they will approach and solve complex problems, what their emotional profile is likely to be and what motivates them to succeed. |
| • | We compare the candidate's assessment results against our statistically validated indicators of success, which are tailored fit to reflect the specific requirements of a client's organizational culture or position, and illustrate how closely each candidate fits the critical parameters of the position. At Transcenture, our science based approach leads to a perfect match of candidates to the position. |
Transcenture staffing and manpower services process does more than fill jobs. We build careers! Our staffing specialists are professionals who understand the dynamics of business and can guide both clients and candidates to achieve a high level of success! It is the quality of our people that makes the difference.
Transcenture staffing services work to anticipate the complex, ever changing needs of business and provide comprehensive, professional staffing solutions. Whether you are staffing for employee vacations, special projects or peak workloads, we provide trained and available workers to keep your business running efficiently.
Transcenture provides a wide variety of staffing services:
• Accountancy & Finance
• Technical Support
• Customer Service
• Banking and Financial Services
• Office Administration
Why Use Transcenture Staffing
| | |
| --- | --- |
| • | Working with our staffing specialists ensures your critical recruiting needs are filled to your satisfaction. |
| • | By introducing you to top performers, we will save you the time and cost of advertising. |
| • | We interview all candidates face to face. This means we will present individuals who meet the requirements and background for the position, saving you the time of going through stacks of resumes and wasteful interviews. |
| • | Transcenture staffing specialists interview more than 100+ candidates a week. This allows us to respond immediately to new job openings, unexpected tasks or spearhead a business expansion. |
| • | We provide quality service with fast turnaround time, therefore minimizing neglected responsibilities that are losing money. |
| • | Our firm works on an individual basis determining what is best for our client and our candidate. |
Transcenture Services Saves:

•

 Time and Expenses


•

 Advertising expenses


•

 Time-consuming interviews


• 

Testing skills


• 

Verifying certifications


•

 Checking references

•

 Employment taxes


•

 Employment liability


• 

Payroll expenses


• 

Vacation and sick leave


• 

Medical benefits


•

 Worker's compensation
Mezzanine Floor, Noli Santos International Tower 1061 Metropolitan Avenue, San Antonio Village Makati City, Philippines