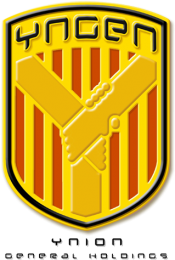 YNGEN HOLDINGS, INC.
Yngen Holdings, Inc. is a Laguna-based company that takes pride in its Filipino ownership and heritage. The company gathers a roster of companies from a diverse range of industries. It believes that true success is comprised of the sum of all its companies.
The company is an affiliate of the TAO Corporation.
PROGRESSION THROUGH DIVERSITY
The subsidiaries of Yngen Holdings are bound by synergy and driven by progression. This progressive roster is composed of the following companies:
Le Soleil International Logistics Co., Inc.
Le Soleil Shipping Agencies, Inc.
Fil-Port Express Brokerage, Inc.
Yngentech, Inc.
Yngen Properties Inc.
YNGEN, IN-DEPTH
Yngen Holdings, Inc. is Filipino-owned firm that contains a progressive roster of companies. These companies span a diverse range of industries, such as shipping, logistics, technology, marketing, and fine foods.
Each of Yngen (pronounced "in-jen") Holding's subsidiaries are cogs that contribute to the company's greater success. These subsidiaries work in unison, defining Yngen Holding's progression.
TEAM YNGEN
The people behind Yngen Holdings are as diverse as its subsidiaries. Each of these highly competent individuals contributes to the greater success of the company.
Orchestrating all this is Eugenio S. Ynion, Jr., president of Yngen Holdings.
Mr. Ynion – or Jun as he is known by the team – brings to the company over 20 years of experience in the logistics service industry. His experience and expertise in managing a progressive business portfolio guides the company to greater success.
Yngen Building 888-B Sabak Street, Magsaysay Road Brgy. San Antonio, San Pedro, Laguna 4023