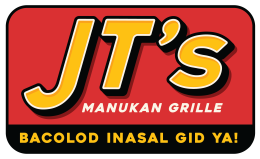 JT's Manukan Grille, Inc.
For almost two decades, JT's Manukan Grille has been serving grilled chicken items marinated the Illongo way. "JT's", as what most patrons would have it, is the brainchild of actor Joel Torre and his wife, Cristy. It all began when the couple started experimenting with various marinades and recipes passed down from their parents and aunts. And while the desire to share their delicacy with others burned fiercely, turning it into a business was also inevitable.
At the heart of Joel and Cristy's efforts was the passion to concoct and serve tasty, succulent, and fresh grilled chicken, and it sparked an opportunity for them to finally have their dreams realized.
In May 2003, Joel was offered a space at one of the properties of the Vera Perezes. Indeed, it was time to test their recipes and the Illongo couple did not disappoint as word quickly got around of how juicy and tender their chicken was. From what was supposed to be a take out counter along Granada Street in Quezon City to becoming a full-fledged restaurant, the original JT's Manukan Grille was born.
#4 Granada St. Ortigas Ext. Brgy. Valencia, Quezon City, Philippines