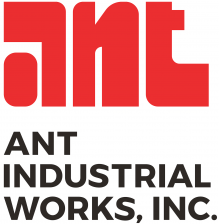 ANT Industrial Works, Inc.
ANT Industrial Works, Inc. is a mechanical contracting company specializing in Heating, Ventilating and Airconditioning Systems, Piping systems, Automation Controls, Fire Protection Systems, Refrigeration Systems, Compressed Air Systems, and other related applications in Industrial and Commercial Buildings. ANT has been serving the mechanical construction industry since 1994.
The company manufactures, supplies and installs over 65 HVAC Products to suit the needs of their clientele. These products are  Philippine made by ANT's skilled craftsmen in their plant in General Trias, Cavite. The company's valued clientele ranges from factories, large scale production facilities, hospitals, hotels, schools, restaurants, airports etc. ANT has worked with Kinpo Electronics, Philippines Inc., Solaire, EDSA Shangri-La , Sofitel, Denso, Brothers, Texas Instruments, Cargill-Joy Poultry Meats Production Incorporated, and Metro Drug to name a few.
ANT is a member of the Philippine Contractors Association Board (Grade A), Philippine
Constructors Association, Inc. (PCA), the Philippine Society of Ventilating, Air Conditioning,
and Refrigerating Engineers (PSVARE), the Philippine Society of Mechanical Engineers
(PSME), and Israel Chamber of Commerce of the Philippines (ICCP).
Block 21 Carmelita Street, Stateland Hills Subdivision, Manggahan, General Trias, Cavite 4107, Philippines