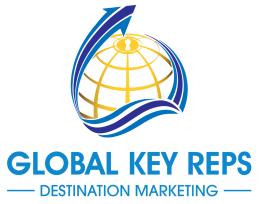 Global Key Reps Destination Marketing
Our company has a wealth of experience gained from over 17 years of working with various specialized services for travel and tours. Initially starting as an Inbound Tour Operator, we specialized in the MICE (Meetings, Incentives, Conferences & Exhibitions) and leisure travel segments, responsible for every aspect of travel arrangement from arrivals right through to final departures and everything vital in between.
Capable and competent, we handled arrivals from Asia Pacific, Europe, and the Americas. With such a diverse range of inbound clientele, we have the experience, know-how, and attention to detail, coupled with our hands-on approach to succeed in such a demanding and competitive marketplace.
From there our attention focused on the Representation of Principals from various Destinations throughout the Asia Pacific, Sub-Continent, and the Middle East. With group-delivered services introducing destinations into the market, primarily on a B2B basis. Our attention has always been on delivering quality service 24/7 and as a Destination Representative, this was often the case. Whatever is needed at any time, we are always available to follow through with any need or requirement.
As the marketplace has developed and evolved so has Global Key Reps Destination Marketing. Through our ability to stay relevant in the field, and continually deliver services that our customers and clients demand (as they should) we find ourselves in the present day.
Our focus may have grown over the years, but from that, our experience base has strengthened exponentially, as well as our core beliefs, our value for ethics, and our unwavering determination. We will give you the travel experience of a lifetime, Every time.
Today we offer a wide variety of packages and programs tailor-made to suit every traveler. We have contacts across the globe and can offer to cover destinations to almost anywhere with our global network.
Holy Land and Pilgrimage tours are extremely popular, we take pride in being able to offer a specialized unique experience. We are inspired by bringing you a life-changing encounter through travel with no sacrifice in quality. We will give you authentic and unforgettable local views of some of the most amazing sites and places. Asia Pacific destinations are covered too as well as India, Nepal and Middle East. Dream of your destination and we will take you there.
WE ARE HERE to offer unique, efficient, and sustainable services that will better serve travelers, tour operators, travel agencies, and tourism boards. We adhere to the industry's best practices and demand ethics while offering unmatched, personalized services to our clients, from individuals to corporate holdings.
Join us and expand your network today! Inspiring success through best practices.
2F Rm. 219 Global Key Reps, Quimpo Blvd. Sandawa St. Davao City, Philippines, 8000