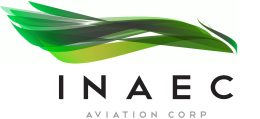 INAEC Aviation Corp.
A LEGACY OF EXCELLENCE
FIRST IN THE PHILIPPINES. PROUD TO BE FILIPINO.
INAEC, true to its heritage, has earned its reputation for safety, service excellence, and unwavering integrity in its business dealings.
Now, INAEC has become the air charter provider of choice for VVIPs, here and abroad. INAEC has also since ventured into an even wider range of aviation services, from domestic and international air charters to aircraft management, aircraft maintenance, medical evacuation, fixed base operations, and aviation training.
SERVICES
AIR TRANSPORT SERVICES
INAEC provides air transport services to business owners and executives who have need of these services on a regular basis as an integral part of their business.
With INAEC, our clients, such as those in vital industries like oil and gas, mining, energy, real estate development, and tourism, are assured of a safe and reliable aviation partner that can fully meet their needs and requirements for air transport and aviation support services.
AIRCRAFT MANAGEMENT
Aircraft management allows owners to use, and enjoy, their aircraft as they deserve. We keep your aircraft safe in our hangars. Your aircraft will be operated by our highly-skilled pilots and maintained by our internationally-trained mechanics. More than that, when we manage your aircraft, we look after you too. We plan all the details of your flight, from departure until arrival.
ON-DEMAND CHARTERS
INAEC's fleet of fixed-wing and rotary-wing aircraft can take you wherever and whenever you want to go – safely, comfortably, and conveniently. Whether it is an exclusive island getaway or a fun country tour with friends and family, you are sure to enjoy an unparalleled travel experience with INAEC, from its comfortable private lounges, to curated meals on request, and to all-inclusive flight coordination services.
For worry-free travel, INAEC is essential!
FIXED BASE OPERATIONS
INAEC provides a wide range of fixed base operations services to make sure that we bring our stamp of safety at each stage of your journey, from aircraft hangarage to ground-handling and flight coordination services, from aircraft maintenance to refueling, from aircraft inspections to batter-charging and equipment rental.
Wherever you are, whatever you require, INAEC can – and will – make it happen for you!
AVIATION TRAINING
Through our training programs, our trainees are given the opportunity to enhance their knowledge through hands-on experience in INAEC's own facilities and equipment, under the mentorship of our dedicated and learned instructors.
5, F Benpres Bldg., Exchange Rd., Ortigas Center, Pasig, Metro Manila