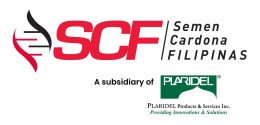 Plaridel Products & Services Inc. / Semen Cardona Filipinas, Inc.
Who We Are
PLARIDEL was founded in 1994. At present, we are one of the leading providers for superior animal genetics, good health nutrition, animal identification, and artificial insemination services in the Philippines.
PLARIDEL has two major focus business units: LIVESTOCK Unit, and MyPETs (prescription and OTC companion animal products), which have successfully introduced cutting edge technology and services to the domestic market.
Because of this, we have been recognized as innovators in the country's animal industry.
Products that have been groundbreaking in the industry.
Animal identification systems
Microchip technology and software management systems for dogs and livestock
Genetic improvement of pigs, cattle, goats and dogs (to be launched soon) through semen importation (fresh and frozen semen)
Innovative artificial insemination products and systems for pigs
Post-cervical and deep intra-uterine insemination procedures and equipment
One of the two companies in the Philippines that has registered Ractopamine HCl
Our History, Founder, and People
The name PLARIDEL was conceived from the ideals of Dr. Jun and Elizabeth Punzalan, the company's founders. The company's name came from one of the country's most illustrious heroes, Marcelo H. del Pilar. In Philippine history, it is well-known that "Plaridel" is the pseudonym of del Pilar.
Del Pilar's numerous compositions alluding the inert capability of the Filipinos to endure and persevere under testing circumstances has inspired the founders to go after this ideal. The company was named after this hero, believing that this should grow and be known for the embodying ideals and aspirations of a Filipino.
Dr. Jun Punzalan and Dr. Elizabeth Roxas Punzalan, the company's founders, are veterinarians by profession. Dr. Elizabeth's family pioneered mass egg production in the Philippines and has been in the poultry business for more than 30 years. Dr. Jun Punzalan is a schooled businessman and completed his post-graduate degrees at the Asian Institute of Management with a degree of Master in Entrepreneurship, and at the University of Asia and the Pacific where he earned his degree in Master in Business Economics.
Through their keen understanding of the animal industry and through applying sound business principles, they continue to lead the company's growth through the years.
Today, we are now composed of innovative-minded people that have captured the mission, vision and values of the company. We pride ourselves with our staff of MBA's, veterinarians, and breeding specialists trained by our partners, and we continue to upgrade our skills through continuous seminars and partner trainings.
No. 35 Danupra Street, Veterans Village, Quezon City, Philippines 1105