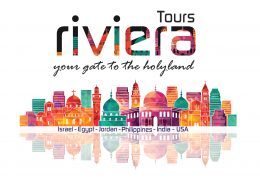 RIVIERA TOURS
Established in year 2000, Riviera Tours is one of Israel's leading Destination Management Company. Specialized in holy land tours, combining Israel, Egypt and Jordan. As a DMC, we are very successful in operating tours for the European, American and South East Asian markets.
We are located with our Head Office in Nazareth, with our staff spread all over in Jerusalem, Bethlehem, Eilat, Tiberious and Tel Aviv. furthermore, Riviera Tours has official representation in the Philippines, the United States, India, Egypt and Jordan with Destination Manager and own teams in each of these countries.
All destinations in Israel, Egypt, Jordan, Palestine, UAE, Bahrain and  Turkey can be easily provided upon request.
OUR TEAM
Our dedicated staff is composed of highly trained and well experienced multilingual professionals, equipped to meet all tourists' needs, representing agents from around the world. We are currently working with Indonesian, Malaysian, South African, Russian, Canadian, American, Turkish, Moroccan, Indian, Philippines and other markets, providing a professional front for our partners. All members of our team speaks English to a high level.
Our Mission
Our Mission is to perform and deliver excellent quality service to our
clients by providing outstanding quality services, unforgettable travel,
and enjoyable travel experience. We aim to earn the reputation as
"Your Preferred Travel Agency". The satisfaction of our customers and
extraordinary service is the main aim, saving your time and money
while providing the best value for your trip.
Our Vision
Our vision is to one day become the leading pilgrimage tour operator in
Israel providing world's best travel service experience. And also, to be
innovators, leaders and creative in the concepts of travel, positioning
our company in the market within the best tourism companies in Israel,
being recognized for our professionalism.
Middle East DMC
Riviera Tours is a Middle East DMC, providing all
tourism services in Israel, Palestine, Jordan, Egypt
and Turkey, in addition to Greece, Italy, Spain,
Portugal, UAE and other destinations in Europe.
Transportation
Riviera Tours uses a fleet of high-end luxury tour buses accommodating 55 to 59 passengers. For our partners who prefer a V.I.P experience for their travelers, we offer a selection of luxury cars equipped with driver, all are stationed strategically across Israel with main depots in Eilat, Tel Aviv and Jerusalem, border crossings and the Airport, Jordan and Egypt. All busses and card are of the latest models with AC, WiFi and USB charges on board.
Accommodation
As a travel agency founded in the year 2000, Riviera Tours has very strong relationships with hotels management and reservation departments, allowing us to secure your rooms, in regular and high season, with very competitive prices form groups and FITs.
Karm A-Jammal, 84, Nazareth 16100, Israel