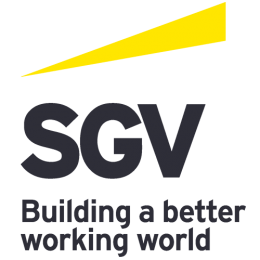 SGV & Company
Our Company
Established in 1946 as W. SyCip & Co., the Firm changed its name twice: first in 1947, to SyCip Velayo Jose & Co., and again in 1953, to SyCip Gorres Velayo & Co. (SGV & Co.).
SGV is currently the Philippines' largest multidisciplinary professional services firm with nine offices across the country. The Firm employs more than 5,000 professionals from various disciplines. We provide integrated solutions that draw on diverse and deep competencies in assurance, tax, strategy and transactions, and consulting services. We uphold the highest standards of quality. In fact, SGV's Audit services have been ISO 9001-certified since 1996. In everything we do, we nurture leaders and enable businesses for a better Philippines. This Purpose is our aspirational reason for being that ignites positive change and inclusive growth.
SGV's track record has remained unmatched in the region. We have accumulated invaluable resources in our 76 years of operations – highly qualified and competent staff, state-of-the-art facilities and an enviable international network. We envision not only to give value-added services to our clients but, more importantly, to become a partner in their and the region's development. In doing so, we play a critical role in building a better working world for our people, for our clients and for our communities.
SGV became a member practice of Ernst & Young International on 6 June 2002. EY, a global leader in professional services, understands the business issues that are important to senior executives. With extensive business knowledge and hands-on industry experience, the global EY organization can implement a broad array of solutions to help companies capture growth, improve financial performance, and manage risk – anywhere in the world. Its over 300,000 people serve as trusted business advisers in more than 150 countries, offering audit, tax, consulting, and strategy and transactions services across all industries to many of today's leading global corporations, as well as emerging companies. Worldwide, its people are united by shared values and an unwavering commitment to quality.
6760 Ayala Avenue, Makati City, Metro Manila, 1226