Standard
09 Nov 2018
0 Comments
ICCP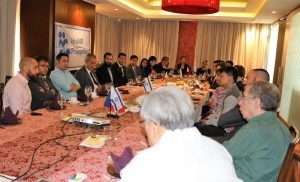 The Israel Chamber of Commerce of the Philippines (ICCP) held a breakfast gathering last October 25 at Tower Club Makati to introduce IsraAID to ICCP's network of members, partners, and friends. The breakfast was done in partnership with the Embassy of Israel in the Philippines and Israel Ambassador Rafael Harpaz.
ICCP members and officers, members of the Jewish community, and heads of corporate foundations such as the BDO Foundation, ABS-CBN Lingkod Kapamilya Foundation, and the Makati Medical Foundation were among the attendees of the event.
IsraAID's Missions
Founded in 2001, IsraAID is an Israel-based international non-government organization. It has responded to emergencies in 46 countries, including the Philippines, Germany, Japan, Kenya, Nepal, Sierra Leone, Iraq, Ecuador, Greece, Sudan, and Puerto Rico. It currently operates 19 missions internationally and engages in disaster risk reduction and response in the following sectors:
Education
Livelihood
Medical Care
Mental Health and Psychosocial Support (MHPSS)
Protection
Water, Sanitation, and Hygiene (WASH)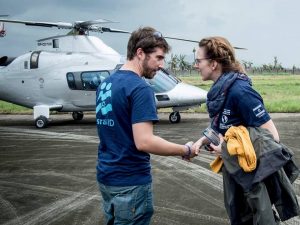 In the Philippines, IsraAID is headed by Country Director Yosef Jalil. The local organization has created multiple projects and response teams for several emergencies in the country, the most prominent of which was Typhoon Haiyan (locally called Typhoon Yolanda) in 2013.
Less than 48 hours after the typhoon struck, IsraAID's Medical Psychosocial and Emergency Response Team was dispatched. For two months, the organization provided psychosocial and medical care, as well as relief aid, to more than 10,000 people in Tacloban and Ormoc. The organization did the same for Typhoon Haima in 2016, the earthquakes in Ormoc in 2016 and 2017, and Typhoon Ompong in 2018.
Past and Ongoing Programs
Other than providing relief aid during emergencies in the Philippines, IsraAID has also constructed a Healthcare Center, a Daycare Center, and the Ipil National Highschool in Ormoc, all in Leyte. The organization provided construction materials after the Tropical Storm Urduja, as well as sports equipment, in cooperation with the Pass It Forward Foundation.
Currently, IsraAID has several ongoing projects in multiple areas of the country:
Reconstruction and Recovery Program – Funded by the Embassy of Japan, a two-story classroom building is being built for the Bagong Buhay Elementary School in Ormoc City.
HoneyAID Program – 20 female farmers were given intensive beekeeping training, as well as 40 bee colonies and complete beekeeping tools and equipment.
Mental Health and Psychosocial Support – Launched in 2014, this program aims to develop the capacity of community workers to help deal with trauma and build communal resilience.
Holistic Expressive Arts Resilience Training (HEART) Project – A program that incorporates MHPSS activities to students in public schools.
Anti-Human Trafficking 360 –This program provided Gender-Based Violence and Human Trafficking training to identified service providers and barangays across Leyte and conducted workshops with the Philippine National Police, the Philippine Ports Authority, and the Coast Guard, as well as a School Awareness Raising Activity in primary and secondary schools all over Leyte.
PHirst AID: Emergency Regional Response Teams –This program aims to build rosters of doctors, nurses, and EMTs, train psychosocial experts, and create relationships with suppliers throughout the Philippines.
Looking to the Future
In the future, IsraAID aims to expand MHPSS and PHirst Aid programs in Benguet and the Cordillera Administrative Region (CAR).
To learn more about IsraAID and how you can help, like and follow them on Facebook.