Standard
21 Feb 2017
0 Comments
ICCP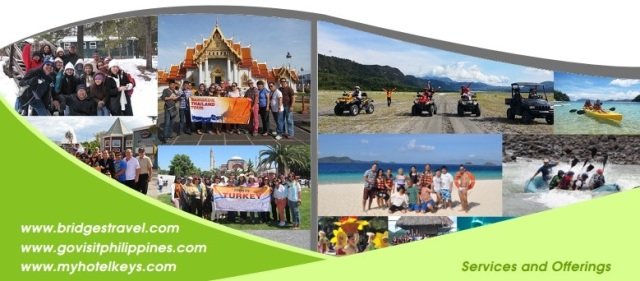 Bridges Travel & Tours, a premier travel company, is committed to making travel safe, fun, exciting, and hassle-free for its customers. Dedicated to providing the best solutions for travel needs, the company also offers professional yet personalized service at reasonable and competitive prices.
Established in April 1997, Bridges Travel and Tours, a member of the Israel Chamber of Commerce of the Philippines (ICCP), has raised the bar in offering quality travel services among Filipinos. It attributes its growth to the dynamic and creative management team, its hardworking workforce, and commitment to its corporate mission.
Evolving in a Highly Competitive Industry
To fortify their position as a leader in the travel sector, Bridges Travel and Tours is keen on focusing on four strategic areas, namely:
Excellent Customer Service
Bridges Travel & Tours continues to provide superior levels of quality in its services that translate to customer loyalty while creating new and bigger opportunities at the same time.
Capable and Functional Staff
It has a high-performing team that consistently displays competence in customer orientation and drives results with the highest regard for professional ethics and values.
Low Cost Offerings
The advent of budget travel and mass tourism has made the travel industry more accessible and more competitive. Bridges Travel & Tours meets this trend by offering local and international tour packages suitable for all budgets.
Unique Packages at Affordable Rates
Bridges Travel & Tours provides customer holiday products at the best value. From local backpacking tours and island-hopping excursions to European trips and Pilgrimages to the Holy Land, Bridges Travel & Tours ensures a safe, exciting, and memorable experience for each client.
Bridges Travel & Tours, affiliated with the Philippine Travel Agencies Association (PTAA), Philippines Tour Operators Association (PHILTOA), and Network of Independent Travel Agencies (NITAS), is located at Unit 801 Liberty Center Bldg. #104 H.V. Dela Costa St., Salcedo Village 1200 Makati City, Philippines.
For more information about their tour packages and services, you may check their website at http://www.bridgestravel.com or reach them via email at [email protected].  You may also contact the following numbers: (+632) 750-3372 to 75, Fax: (+632) 7503376, Mobile/ Viber +639178819996 / +639228503372